Testimonials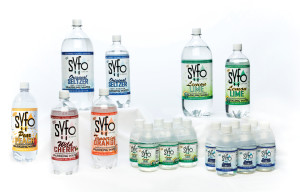 "Syfo Sparkling Waters are the best and most delicious sparkling water beverages! 
I've tried La Croix canned sparkling waters in several flavors and while some of them are distinctively good, Syfo Beverages wins out again in my opinion!!  The fact that your product is reverse osmosis and is bottled instead of canned must have something to do with the great taste!
"

With or without alcohol, delicious, refreshing recipes for any season. Submit your own here.
St. Germain & Syfo
January 16, 2013
Mixologists say the fruit-driven character of the elderflower mixed with
the effervescence of Syfo purified carbonated water and all natural flavors
makes for a delicious, distinctive cocktail and healthier too! The perfect combination with Syfo, St. Germain is lower in sugar than many liqueurs.
Preparation
1 part St.-Germain
3 to 4 parts SYFO Original Seltzer (Adjust to desired taste; add ice cube to chill.)
More Articles...