Testimonials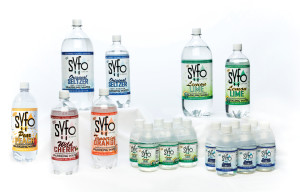 "Syfo Sparkling Waters are the best and most delicious sparkling water beverages! 
I've tried La Croix canned sparkling waters in several flavors and while some of them are distinctively good, Syfo Beverages wins out again in my opinion!!  The fact that your product is reverse osmosis and is bottled instead of canned must have something to do with the great taste!
"

With or without alcohol, delicious, refreshing recipes for any season. Submit your own here.
Cherub's Cup
February 13, 2013
Here's a recipe that's perfect for everyone in love, for Valentine's Day or at any time of year:

Ingredients:
1 part St. Germain elderflower liqueur 2 parts vodka, citrus vodka, or Hendricks Gin
3/4 part fresh lemon juice
optional 1/4 shot simple syrup
1 part muddled strawberry
Top with Syfo Original Seltzer
Strawberry for garnish
Preparation:
Shake and strain over fresh rocks in a collins glass. Top with Brut Rose or Brut Champagne or Syfo Original Seltzer. Garnish with a strawberry.
More Articles...