Testimonials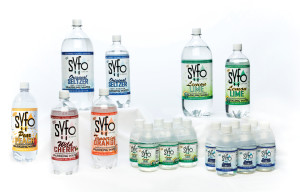 "Syfo Sparkling Waters are the best and most delicious sparkling water beverages! 
I've tried La Croix canned sparkling waters in several flavors and while some of them are distinctively good, Syfo Beverages wins out again in my opinion!!  The fact that your product is reverse osmosis and is bottled instead of canned must have something to do with the great taste!
"

With or without alcohol, delicious, refreshing recipes for any season. Submit your own here.
Any Holiday Punch
January 15, 2015
Here's a recipe that's perfect for any holiday or occasion and simply tastes great!

INGREDIENTS:
1 pineapple, peeled, cored and pureed
2 bottles dry white wine
1/2 cup triple sec, or favorite fruit liqueur
1 cup vodka
1 cup cranberry juice or cranberry juice cocktail
1 cup ginger ale
1 liter Syfo Original Seltzer (or roughly 4 cups)
PREPARATION:
Pour pureed pineapple into ice cube trays. Freeze for at least two hours, or preferably overnight.
In a large punch bowl, pitcher or mixing bowl, combine wine, vodka, liqueur and juice. When ready to serve, add the pineapple ice cubes, ginger ale and seltzer. Give a quick stir and serve immediately.
Tip: If you're looking for a kid-friendly, nonalcoholic punch, just leave out the liquor and wine, sub in some pineapple juice and this punch still has festive flavor.
Recipe courtesy of Cooking.com.
More Articles...