Recipe of the Day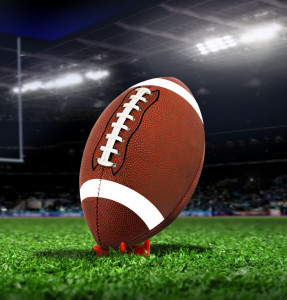 For this exciting 2018 NFL playoff season, we've curated our favorite food and beverage recipes to spice up your tailgating or viewing parties all the way through the Super Bowl. It'll help you build your NFL playoffs shopping list and be sure to have plenty of Syfo on hand.
Read more...

With or without alcohol, delicious, refreshing recipes for any season. Submit your own here.
Thanksgiving 2016 Drink Recipes
November 23, 2016
One of the greatest American traditions, Thanksgiving is a chance to show our gratitude for all that we have and share the occasion with family and friends while enjoying food and drink. When planning this year's Thanksgiving menu, consider these delicious Thanksgiving beverage recipes courtesy of Syfo:
Pear Rosemary Cocktail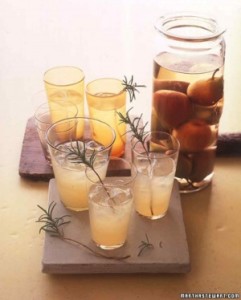 Ingredients
6 to 10 pears
12-16 fresh rosemary sprigs
1 ½ cups of pear nectar
4 cups of Syfo Peach- Pear Sparkling Water
Preparation
To prepare pear infused vodka, place pears in a large 48 ounce jar to fill. Pour vodka over the pears to fill, then seal the jar. Allow the pear- vodka mix to sit at room temperature for about 2 weeks (Hint: if infusing your own vodka isn't your style, pear vodka such as Absolut can be found at most stores).
To make your simple syrup, heat sugar and 1 cup of water in a saucepan over medium to high heat, and stir until the sugar has dissolved. Add rosemary springs and remove from heat. Allow the mixture to cool for 30 minutes. Remove the rosemary sprigs and continue to cool the mixture completely.
Fill glasses with ice. Combine 2 ounces of vodka, 1 ounce (2 tablespoons) of simple syrup, and 1.5 ounces of pear nectar. Top with ½ cup of Syfo Peach- Pear Sparkling Water and garnish with rosemary springs.
Acknowledgement: Photo and recipe from marthastewart.com
Thanksgiving Brunch Tonic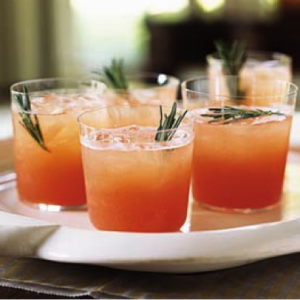 Ingredients
1 cup of sugar
1 cup of water
4 fresh rosemary sprigs
4 cups of chilled cranberry juice cocktail
2 cups of fresh orange juice (use about 6 oranges)
3 cups of chilled Syfo Original Seltzer
Preparation
Combine sugar and water in a small saucepan; bring to a boil. Reduce heat, and simmer 4 minutes or until sugar dissolves. Add rosemary; simmer 5 minutes. Remove from heat. Pour sugar syrup into a bowl; cover and refrigerate overnight.
Uncover sugar syrup; remove and discard rosemary sprigs. Combine the sugar syrup, juices, and soda in a large pitcher. Serve immediately over ice.
Acknowledgement: Photo and recipe from myrecipes.com
Fizzy Pear Ginger Punch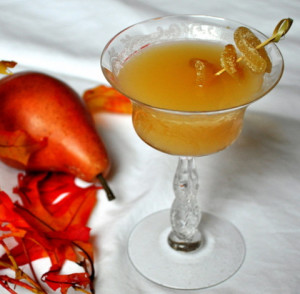 Ingredients
For Ginger Syrup:
1 3-inch piece fresh ginger, peeled and cut into thirds
2 cups water
1 cup sugar
For Punch:
8 cups chilled pear juice, such as Looza
1 cup ginger syrup
1/4 cup plus 1 tablespoon lemon juice
1 1/2 teaspoons ground ginger
Preparation:
For the ginger syrup, place ginger, water, and sugar in a medium saucepan. Bring mixture to a boil then reduce heat and simmer for about 30 minutes until reduced to a syrup. Let cool.
For the punch, in a large punch bowl, combine pear juice, ginger syrup, lemon juice, and ground ginger. Whisk until combined. Add Syfo Peach-Pear Sparkling Water and stir gently to combine. Add ice block to punch bowl.
If desired, place three pieces of candied ginger on a tooth pick and place in each cocktail glass as garnish.Fill glass with the amount of desired ice. Combine all ingredients and stir gently. Garnish with olives
Acknowledgement: Photo and recipe from seriouseats.com
Cranberry Thanksgiving Punch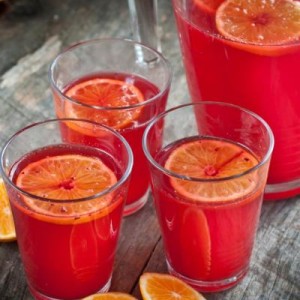 Ingredients:
2 bottles of chilled cranberry juice
2 containers of lemonade or orange juice concentrate
1 bottle of Syfo Seltzer or Syfo Tangerine-Orange Sparkling Water
Preparation:
Mix all of the ingredients right before serving.  For an extra flavor boost, you can try a cranberry juice blend such as cranberry apple, cranberry blueberry or cranberry grape.
Acknowledgement: Based on a recipe idea from punchbowl.com.
Campari Spritz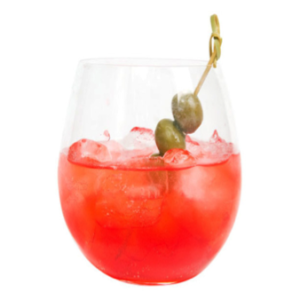 Ingredients
2 oz of sparkling wine or Prosecco
1oz of Syfo Original Seltzer
2 oz Campari
Use green olives for garnish
Ice
Preparation

Fill glass with the amount of desired ice. Combine all ingredients and stir gently. Garnish with olives
Acknowledgement: Photo and recipe from seriouseats.com
More Articles...