Testimonials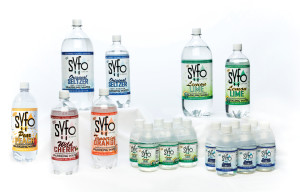 "Syfo Sparkling Waters are the best and most delicious sparkling water beverages! 
I've tried La Croix canned sparkling waters in several flavors and while some of them are distinctively good, Syfo Beverages wins out again in my opinion!!  The fact that your product is reverse osmosis and is bottled instead of canned must have something to do with the great taste!
"

With or without alcohol, delicious, refreshing recipes for any season. Submit your own here.
Strawberry Lemonade Fizz
July 9, 2015
Here's a deliciously fizzy summer recipe that the kids will love:

INGREDIENTS
1 1/2 Cups of Pureed Strawberries
5-6 tablespoon of Fresh Squeezed Lemon Juice (1 large lemon or 2 small lemons)
2-4 tablespoon Maple Syrup (depending on the sweetness of the berries)
12 ounces of Syfo Original Seltzer
Ice
PREPARATION
A "mocktail" the kids will love! Puree the strawberries, lemon juice and maple syrup until completely liquefied. Pour strawberry-lemon mixture in glasses over ice, in order to fill the glasses halfway or more. Top off the glasses with Syfo Original Seltzer and finish it with a quick stir.
Recipe adapted from wonkywonderful.com
More Articles...