Recipe of the Day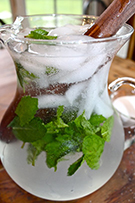 Testimonials

"I've recently given up colas and said all along that it wasn't the sugar or caffeine that kept me drinking them, but the carbonation. My husband was skeptical, however, after finding Syfo I've been able to prove to him I was completely correct. Once I started drinking Syfo Seltzer and the Lemon-Lime Sparkling Water, I haven't given Cokes/soft drinks/sodas another thought. Thanks!"
Beth  H., Bessemer, AL 



Pure Refreshing Seltzer and Naturally-Flavored Sparkling Waters
Syfo® Original Seltzer and Naturally-Flavored Sparkling Waters are among the healthiest and most refreshing beverages around. Made with 100% purified water with all-natural flavors, Syfo is free of sugar, artificial sweeteners, sodium, caffeine and preservatives.
The effervescence of Syfo Beverages is the perfect thirst quencher. Enjoy it straight from the fridge or with your favorite drink recipe. All Syfo Beverages are certified Kosher by the Orthodox Union.
Syfo Beverages come in four refreshing varieties:
Learn what makes Syfo such a healthy beverage.