Testimonials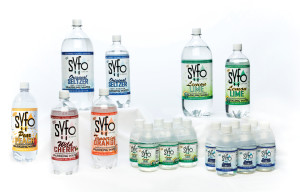 "Syfo Sparkling Waters are the best and most delicious sparkling water beverages! 
I've tried La Croix canned sparkling waters in several flavors and while some of them are distinctively good, Syfo Beverages wins out again in my opinion!!  The fact that your product is reverse osmosis and is bottled instead of canned must have something to do with the great taste!
"

Vending Channel Ramps up for Healthy Syfo Beverages
Atlas Food Systems & Services, Inc. has expanded its food service and vending products to include Syfo Brand Naturally Flavored Lemon-Lime, Tangerine-Orange and Wild Cherry Sparkling Waters. It is being offered in a consumer size 20 oz recyclable plastic. It is one of the first times that Sparkling Water has been offered in a vending distribution channel and both parties are expecting it to be a success as consumers across the country are looking for healthy alternatives to sugar-ladened beverages.