Testimonials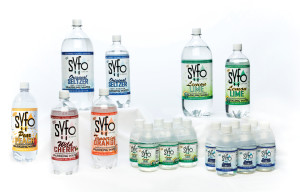 "Syfo Sparkling Waters are the best and most delicious sparkling water beverages! 
I've tried La Croix canned sparkling waters in several flavors and while some of them are distinctively good, Syfo Beverages wins out again in my opinion!!  The fact that your product is reverse osmosis and is bottled instead of canned must have something to do with the great taste!
"

Labor Day weekend — the last hurrah of the summer. Labor Day is looked forward to as a great opportunity to relax, rejuvenate and have fun. Need we say BBQ? To help ease the sorrow of the end of summer, enjoy these refreshing beverage recipes with a sparkling Syfo touch.
Sparkling Cojito Cocktail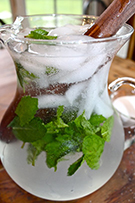 Courtesy of the kitchn website, here's a cool refreshing variation of the mojito. The recipe serves six.
Ingredients:
1 bunch fresh mint, keep a few sprigs to the side for garnish
1/2 cup sugar
3 tablespoons water
4 limes juiced
3 cups coconut rum, like Blue Chair Bay
1 liter Syfo Original Seltzer
Ice
Lime wedges for garnish
Preparation:
In a large pitcher, combine the mint, sugar and water, and muddle. Add the lime juice and rum, and stir to combine. Fill the pitcher with ice and add the seltzer. Pour into ice filled glasses and garnish with a sprig of mint and a lime wedge.
Red, White & Blue Spritzer
Ingredients:
White Wine (we chose Moscato)
Lemon-Lime Syfo Naturally-Flavored Sparkling Water
Frozen Blueberries & Strawberries
Preparation:
Pour 4oz of chilled Moscato and 2oz of Syfo Lemon-Lime Naturally-Flavored Sparkling Water in a glass. Top with frozen blueberries and strawberries and enjoy!
Watermelon Slush
Ingredients:
2 ½ cups of Watermelon
1/3 cups of Pomegranate Juice
Syfo Original Seltzer
1 cup of ice
Vodka (optional)
Preparation:
Blend fresh watermelon, pomegranate juice and ice. Add 1 part of slush blend and 1 part of Syfo Original Seltzer in a glass. Add an optional shot of Vodka or liquor of your choice.
Summer Breeze
Ingredients:
Cranberry Juice
Grapefruit Juice
Syfo Wild Cherry Naturally-Flavored Sparkling Water
Ice
Pineapple Wedge
Vodka (we chose citrus flavor)
Preparation:
Pour 1 part cranberry juice, 1 part grapefruit juice, and 1 part citrus vodka in a shaker over ice. Shake well. Pour mixture in a glass and top with Syfo Wild Cherry Naturally-Flavored Sparkling Water. Garnish with a wedge of pineapple and enjoy the summer breeze.