Testimonials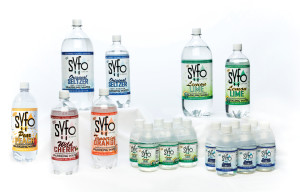 "Syfo Sparkling Waters are the best and most delicious sparkling water beverages! 
I've tried La Croix canned sparkling waters in several flavors and while some of them are distinctively good, Syfo Beverages wins out again in my opinion!!  The fact that your product is reverse osmosis and is bottled instead of canned must have something to do with the great taste!
"

It's Important to Read the Label
February 14, 2013
When buying any beverage or food product, it's important to read the nutritional label that appears on the bottle or packaging to understand what's in the product and also what's not. This way, you can decide if the product is good for you and also see if you're getting what you expected when it comes to ingredients.All of our Syfo products start with a 100% purified water base. They are gluten-free, caffeine-free and have no preservatives, sugars or artificial sweeteners, colors, flavors or sodium.  The flavors in our all-natural Lemon-Lime, Tangerine-Orange and Wild Cherry are derived from the oils selectively extracted from the peel of the fruit. The flavoring is then added to the purified water base.  All Syfo products are PG (propylene glycol) free.You can see the nutritional label information for our products here. To read more on what you can learn from a nutrition label, check out nutritiondata.self.com.