Testimonials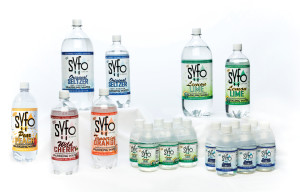 "Syfo Sparkling Waters are the best and most delicious sparkling water beverages! 
I've tried La Croix canned sparkling waters in several flavors and while some of them are distinctively good, Syfo Beverages wins out again in my opinion!!  The fact that your product is reverse osmosis and is bottled instead of canned must have something to do with the great taste!
"

Delicious Kosher for Passover Beverage Recipes
March 29, 2015
This year for Passover 2015 we thought we'd share some delicious Kosher for Passover beverage recipes that we found around the Web to help you celebrate Passover. These drink recipes either avoid using spirits derived one of the five grains—barley, oats, rye, spelt, or wheat — or use ingredients that have been designated as Kosher for Passover. We've included links to the original recipes so you can investigate the ingredients in more detail.
Paris in April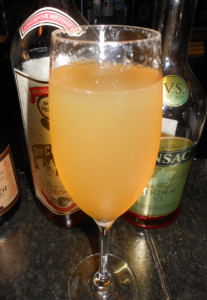 Passover occasionally coincides with April, the month when Parisians experience more showers than during the whole rest of the year combined, which is reason enough to celebrate with this languid cocktail comprised entirely of ingredients from France.
A musky accompaniment for firing up the vaporizer, cranking up "La Vie En Rose" and inducing a lazy nostalgie de la boue for "The Sparrow" and amnesia concerning her activities during the war. Smugly satisfying with a toasted matzoh and grilled gruyere.
Ingredients:
1 1/2 oz Cognac
1 oz green Chartreuse
1/2 oz Grand Marnier
4 oz Syfo Kosher for Passover Original Seltzer
Preparation:
To a chilled rocks glass (preferably a Bonne Maman jam jar), add Cognac, Chartreuse, and Grand Marnier, then swirl with minimal effort. Using fingers drop two ice cubes into the mixture, then fill to rim with Perrier. No garnish.
Recipe courtesy of tabletmag.com
Dayenu

Ingredients:
1.5 oz. Kosher-for-Passover Gin or Vodka
.75 oz. Lemon Juice
.25 oz. Agave Nectar
3 Tarragon Leaves
2 large Strawberries
2 oz. Syfo Kosher for Passover Original Seltzer
Preparation:
Muddle strawberries with tarragon in tin. Add all other ingredients other than soda and shake with ice. Fine Strain into martini glass and top with soda.
Recipe  courtesy of foodandwine.com
Lava Lamp Cocktail/Mocktail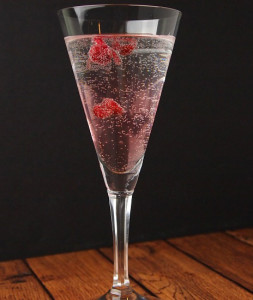 Make this fun drink with or without alcohol, anything with bubbles will do. Use the cranberry simple syrup for the color and flavor and enjoy the excitement as the cranberries pop up and around.  Makes 2+ servings.
Ingredients:
Cranberry Simple Syrup
2 1/4 cups fresh or frozen cranberries
1 cup sugar
1 cup water
Syfo Kosher for Passover Original Seltzer
Dried cranberries
Preparation:
Make the cranberry simple syrup. In a medium saucepan, bring cranberries, sugar and water to a simmer over medium  heat.  Reduce heat to medium low and cook until cranberries are tender but haven't burst, about 10 minutes. Let cool, strain cranberries out and store simple syrup until ready to use in the fridge.
For each drink, place a few dried cranberries in a champagne flute.  Add ½ cup sparkling beverage of choice and then add about 1 tablespoon simple syrup.   After a minute the cranberries will float up and there will be a lava lamp effect.
Recipe courtesy of joyofkosher.com
Basic Sangria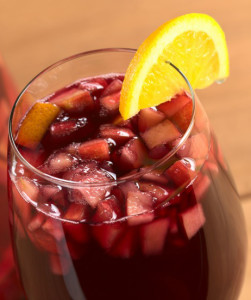 Makes 6-8 servings
Ingredients:
1 750ml bottle dry red wine, sweet red wine or 24 oz. bottle of grape juice
8 oz. orange juice
2 oz. lemon juice (If you are using dry wine, you will also need 8 oz. of apricot, peach, or mango nectar to bring out the fruit flavors and increase the sweetness of the sangria.)
Assorted fresh, frozen, or dried fruits or berries in bite-sized chunks.
Syfo Kosher for Passover Original Seltzer
Preparation:
1. Pour wine, juices (and nectar if called for) into a pitcher.
2. Add assorted fruit bites.
3. Chill overnight to allow flavors to mingle.
4. Add ice and club soda, if desired, just before serving.
5. Pour into stemmed wine glasses and garnish with slices of your favorite fruit.
(Makes between 6-8 6-oz. servings, depending on amount of fruit, ice and soda added.)
Recipe courtesy of joyofkosher.com