Testimonials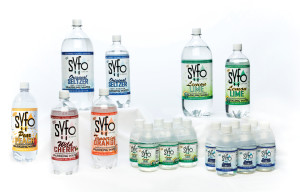 "Syfo Sparkling Waters are the best and most delicious sparkling water beverages! 
I've tried La Croix canned sparkling waters in several flavors and while some of them are distinctively good, Syfo Beverages wins out again in my opinion!!  The fact that your product is reverse osmosis and is bottled instead of canned must have something to do with the great taste!
"

With or without alcohol, delicious, refreshing recipes for any season. Submit your own here.
A great SYFOLICIOUS RECIPE with alcohol
Serving Size: 8
Use 3/4 cup Florida Orange Juice, 3/4 cup Florida Grapefruit Juice, 3/4 cup Light Rum, 1/4 cup Orange Liqueur, 1 Liter bottle Syfo Original Seltzer or Lemon Lime, Tangerine Orange or Wild Cherry Naturally Flavored Sparkling Water.
Preparation method:
In a 2-quart pitcher combine Florida Orange and Florida Grapefruit Juice, Rum, and Orange Liqueur. Gently stir in Syfo Original Seltzer or Syfo Naturally Flavored Sparkling Water of your choice. Garnish with Orange or Grapefruit wedges (optional). Serve at once over crushed ice.
Makes 8 (about 7-ounce) servings.
Delicious and healthy for breakfast or any time
We usually feature drink recipes in this section but here's a great recipe from Sarah, the Healthy Home Economist that gives you another way to make Syfo a healthy part of your diet. Sarah has been kind enough to mention Syfo several times, and here's her recipe for almond flour pancakes that's both healthy and delicious:
Almond Flour Pancakes
2 cups finely ground almond flour
2 Tbl honey or 5 drops liquid stevia
4 Tbl expeller pressed coconut oil, softened
Splash of vanilla extract
1/2 tsp sea salt (I used Redmond Real Salt)
1/2 cup seltzer water (I use Syfo seltzer in small, clear glass bottles)
4 eggs
Sarah has lots of great information on her blog and you can read the entire recipe posting here. Also, check out her recipe for healthy homemade soda using Syfo. For children it's a healthy alternative to sugary soda.
SyfoLicious Calorie Counted Recipe — perfect for diabetics
Julius Caesar would have won Cleopatra's heart forever with this Pureiffic healthy elixir:
Use 6 ounces of fresh-squeezed Florida orange juice (or any not from concentrate, 1 teaspoon Vanilla, 10-ounces of Syfo Naturally-Flavored Tangerine-Orange Sparkling Water and 1/2 cup milk (low fat).
Preparation method:
Chill your glass ahead of time in the freezer. Combine all ingredients in blender. Blend until smooth. Squeeze a wedge of orange over the top. Pour into a tall frosted glass.
Nutrition info:
Per serving: 2 Calories; 0g Fat (0% calories from fat); 0g Protein; 0g Carbohydrate; 0mg Cholesterol; 0mg Sodium
Summer's coming — white wine and Lemon-Lime. The perfect wine spritzer! I love Syfo!
— Peggy C. of Atlantic Beach, FL
I want to say how much I like your Syfo Original Seltzer. I just started drinking it 4 or 5 months ago and I prefer it to other seltzers. I drink it straight and sometimes with wine as a wine spritzer.
— Michael T. of Ocala, FL
Matzah Ball Recipe with Syfo Original Seltzer
Matzah (Matzo) balls are a traditional Central and East-European Jewish dumpling. Beatrice K. of North Miami shared with us her secret to making lighter, bigger Matzah balls. She uses Syfo Original Seltzer in the recipe.
Add about 2 tablespoons of SYFO Original Seltzer to the Manischewitz Mato Meal and egg. Refrigerate the dough for a couple of hours. Also, here's a recipe for Matzah (Matzo) ball soup:
Matzo Ball Soup
Serves 8
2 tablespoons oil
2 eggs, slightly beaten
1/2 cup Manischewitz® Matzo Meal
1 teaspoon salt
2 tablespoons soup stock or Syfo Original Seltzer
Mix fat and eggs together. Mix and add Manischewitz® Matzo Meal and salt. When well blended, add soup stock or water. Cover mixing bowl and place in refrigerator for at least twenty minutes. Using a two or three quart size pot, bring salted water to a brisk boil. Reduce flame and into the slightly bubbling water drop balls formed from above mixture. Cover pot and let cook 30-40 minutes. Have soup at room temperature, or warmer, and remove matzo balls from water to soup pot. When ready to serve, allow soup to simmer for about 5 minutes. Recipe makes eight balls.
FOR ALL THOSE CHOCOHOLICS!
Syfo with Chocolate Syrup is the best! It's great with all of the flavors but we like to use it with the Lemon-Lime. We pour cold Syfo Lemon-Lime into a glass and add the chocolate syrup and stir. How much chocolate? Well that depends on how sweet you like it, the more chocolate the sweeter it is.
— Irv S., Boynton Beach, FL
More Articles...