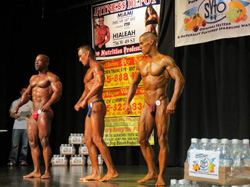 The 2017 NPC South Florida Bodybuilding, Physique, Fitness, Figure & Bikini Championships will be held on Saturday, November 25TH, 2017 at the James L. Knight Center Ashe Auditorium in Miami, FL. The event will feature 26 great contests and is being staged by NPC South Florida, which is active in promoting fitness competitions throughout the region.
Mari Rendondo and her husband Sergio Pacheco run NPC South Florida and are dedicated to bringing the best shows and extreme athletes to South Florida fitness competitions. Mari is the official organizer and promoter for this event and she also is a big fan of Syfo.
"I love your product because it's pure, doesn't contain preservatives and it's so tasteful. We recommend it to all our competitors," says Mari. Mari encourages anyone looking to stay healthy and fit to try any of our delicious Naturally Flavored Sparkling Waters. Syfo is proud to be one of the sponsors for this event.
There will be live music entertainment featuring Xylene and tickets will be available at the door. For more information about the NPC South Florida Fitness Competition, visit www.npcsouthflorida.com.